Arco Antico
Your holiday in style in Trapani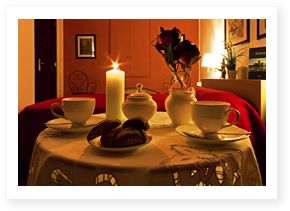 In the heart of Trapani, in an old building where specialized professionals were able to restore ancient arches, pavements and small decorations, Arco Antico comes.
In 2013 was opened as a B&B in Trapani, later in 2014, to offer a better service to its customers, the Bed and breakfast Arco Antico in Trapani becomes Three Stars Guesthouse.
Our structure, with its refined and elegant design, can join together past and future by offering single, double and triple rooms. The rooms, carefully restored, will be able to accommodate you to live a full stay of relaxation in the city of Trapani.
Among the first in Trapani to share the experience and the hospitality of the Bed and Breakfast, the (three stars) Arco Antico guesthouse is the result of passion and professionalism gained over the years. The passion and the pleasure of welcoming lead us on a daily basis to carry out this work with seriousness and dedication in order to guarantee guests a great service and the comfort in our city.
From B&B in Trapani to Three Stars Guesthouse
Thanks to the results achieved in 2013 with the B&B Arco Antico in Trapani, it was decided to change our bed and breakfast in three-star guesthouse, the best way to ensure greater professionalism and a better service to our customers.

In fact, in addition to not losing the services that offers a b&b, our rooms thanks to the refined and elegant design are all equipped with bathroom, air conditioning, LCD TV, mini fridge, hairdryer, free wifi internet and environments sonorized to enjoy our guests the right sound accompaniment to their words. Proud of the result achieved by our structure, we have to thank many of our customers who have honored their great reviews comparing our rooms to a superior hotel.
Location
Thanks to an enviable position for excursions, Arco Antico is located in the historical center of Trapani next to a public parking, next to the bus stop to the airport, a short walk from the harbor and main streets to enjoy the best of the city . In addition you can immerse yourself in the daily framework of city life, with perfumes, dialects, costumes and colors, and everything an ancient courtyard of Arab origin can offer.